AN INNOVATION IN PARTICIPANT REGISTRATION
Take entries & payments on your own website!
Embedded Forms bring the experience and power of Race Space directly to your event website. See how it works for yourself (use promo code "FantasticFeatures" to bypass card details):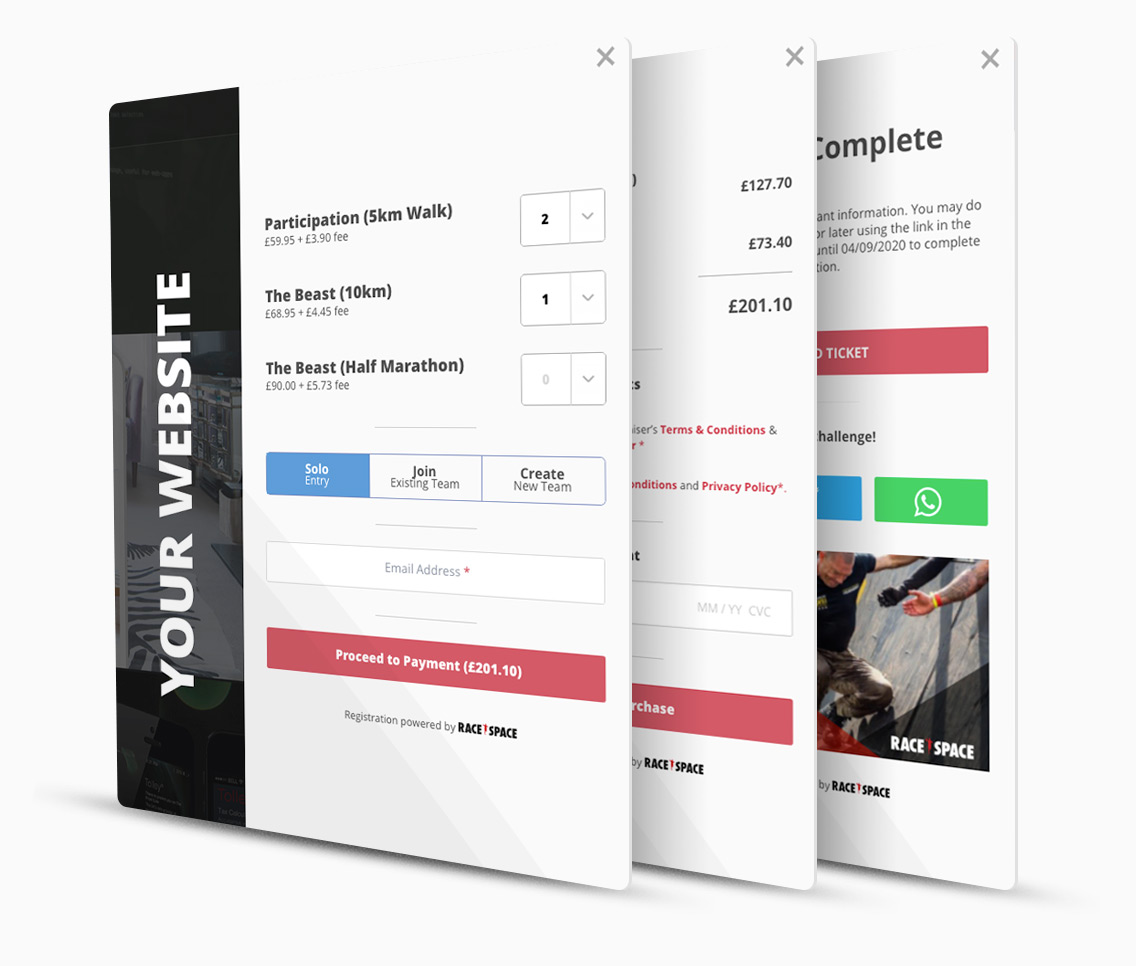 Key benefits of Embedded Forms
advanced options
Build in conversion-driven extras.
Keep your form super simple to make entries seamless or build in instalment plans, booking protection and team tech to give your participants more options.
Uses Speedy Checkout, Register Later Technology
The quickest, easiest checkout experience.
Embedded forms use Speedy Checkout with buy now, register later technology, maximising conversion rates by streamlining pre-transaction form requirements.
65%+ of transactions occur on mobile
Mobile ready out of the box!
With the vast majority of transactions taking place on mobile, ensuring that your registration processes are designed mobile-first is one of the most effective ways to improve upon your conversion rates.
Frequently Asked Questions
01
How easy is it to install embedded forms on my website?
It's super easy and requires no complex coding on your website!
02
Do I need to install an HTTPS certificate on my site?
Yes, any site that takes personal and payment information is required to have HTTPS installed for the security of your participants data and maximising conversions (as browsers warn against unsecure sites).

Race Space does not sell security certificates, however they are relatively cheap to purchase and easy to install. If you need any help with this, Race Space will be more than happy to assist.
03
Is participant data secure with embedded forms?
Once an HTTPS is installed on your site, embedded forms have the same level of data security as a registration done directly through our platform.
04
Can I make changes to embedded forms once the event is live?
Like other features on the Race Space platform, not all changes will be available once the event is live. Get in touch and we will be more than happy to look into any chnages for you!
05
Do I still have the option to redirect to the Race Space website to complete payments if I want?
Yes of course!
06
Where is participant information collected on embedded forms kept?
All participant information is kept within the event itself so you can check all these details as you would normally when a participant is signing up.
07
Can I customise my embedded forms?
Yes, embedded forms are customisable to a certain degree. For any specific amendments feel free to contact us to see what can be done.
Features that work well with Embedded Forms
{"modalTheme":"cara","mailCustomCSS":""}