Your participants are your biggest marketing resource
Using advanced team technology to spread the word is easy!
Race Space team tech uses experience design to help turn individuals into large teams through participant engagement and making it fun and easy to share, invite and engage with existing and future team members.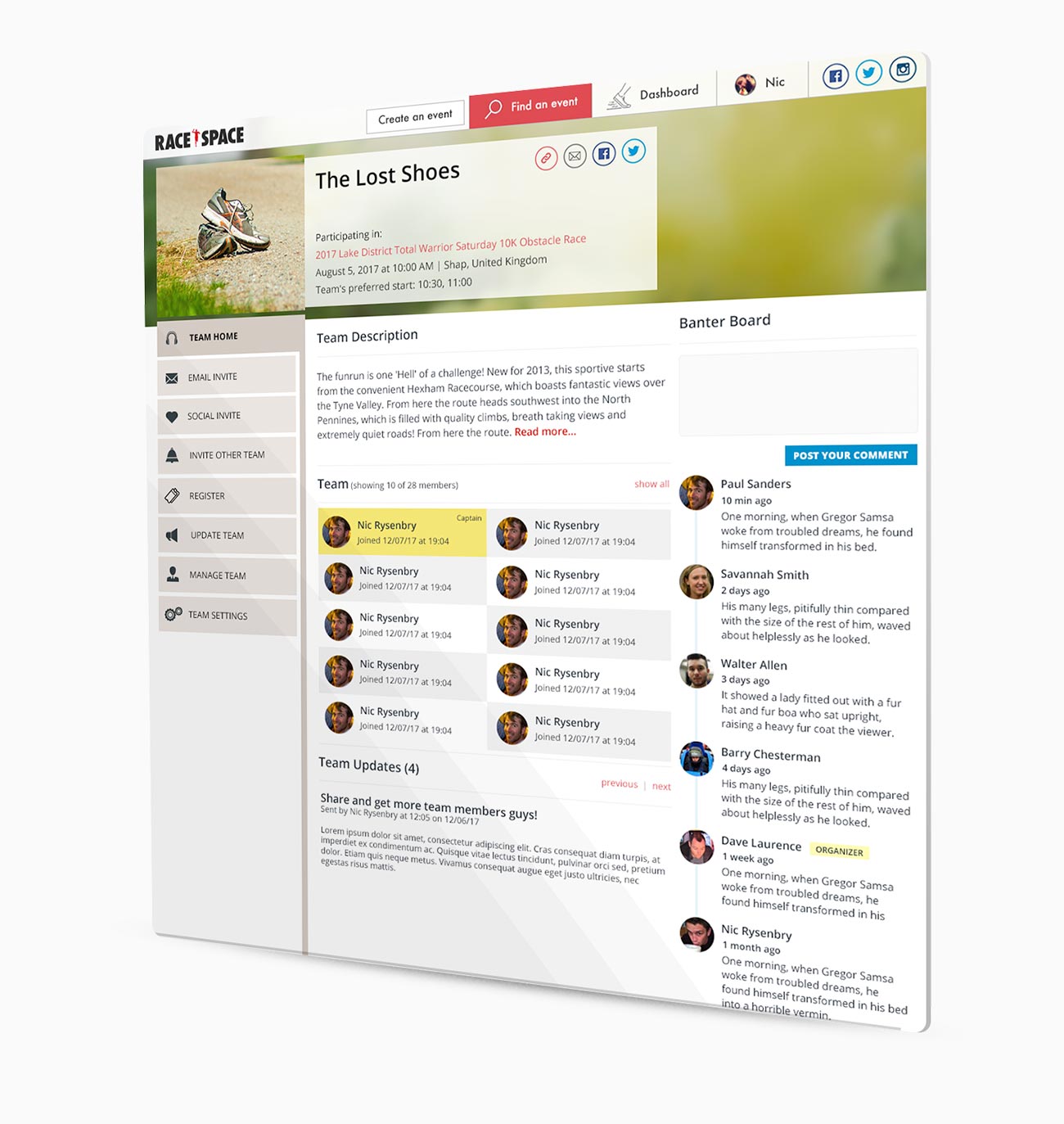 Key benefits of Race Space team technology
Simple to set up
Set up in moments, then watch the tech work!
In a few clicks, you can set all the parameters you'll need for your participants to start engaging with members, promoting their teams and getting the word out for your events.
Effortless participant registration
Non-disruptive team setup.
Team creation and joining is built into our single-step, register now checkout and our pre-registration, speedy checkout instead of on a separate flow outside your conversion.
Don't give the opportunity for participant drop-off with processes that don't directly lead to a sale.
Drive Team Engagement
Give participants their very own team hub.
The Race Space Team Page is packed full of fun features to keep participants engaged, communicating with each other, managing team memberships and getting other friends signed up.
Frequently asked questions
01
Can people doing different distances be part of the same team?
Team members aren't restricted to one distance. To maximise team engagement, participants from any distance can enter a single team so they can keep motivated and drive motivation to others together.
02
Are team members always in the same wave?
If they are doing the same distance, yes. However, if someone is doing a different distance, that doesn't have a wave at the same time, they will be put in the closest possible wave.
03
Can any type of event take advantage of team technology?
Yes, Race Space team tech is not restricted to a particular style of event. All it really means is people getting together, encouraging each other and taking part together.
04
What sharing options do team members have?
Loads of great sharing options including customisable social share graphic and a customisable email sender. Keep track on who you've invited has signed up with a full list of all pending and accepted team invitations.
Features that work well with Team Tech
{"modalTheme":"cara","mailCustomCSS":""}