PARTICIPANTS CAN BUY NOW, RATHER THAN FORGET LATER
Are you capitalising on user excitement by allowing instant, obstacle-free ticket purchases?
There's a direct correlation between ease-of-purchase and conversion rate. This is doubly true for those on mobile devices, and even more so when it comes to aspirational purchases, such as event tickets.
Don't lose entries by bamboozling people with lengthy entry forms, allow participants to commit first, then deal with registration at a more convenient time.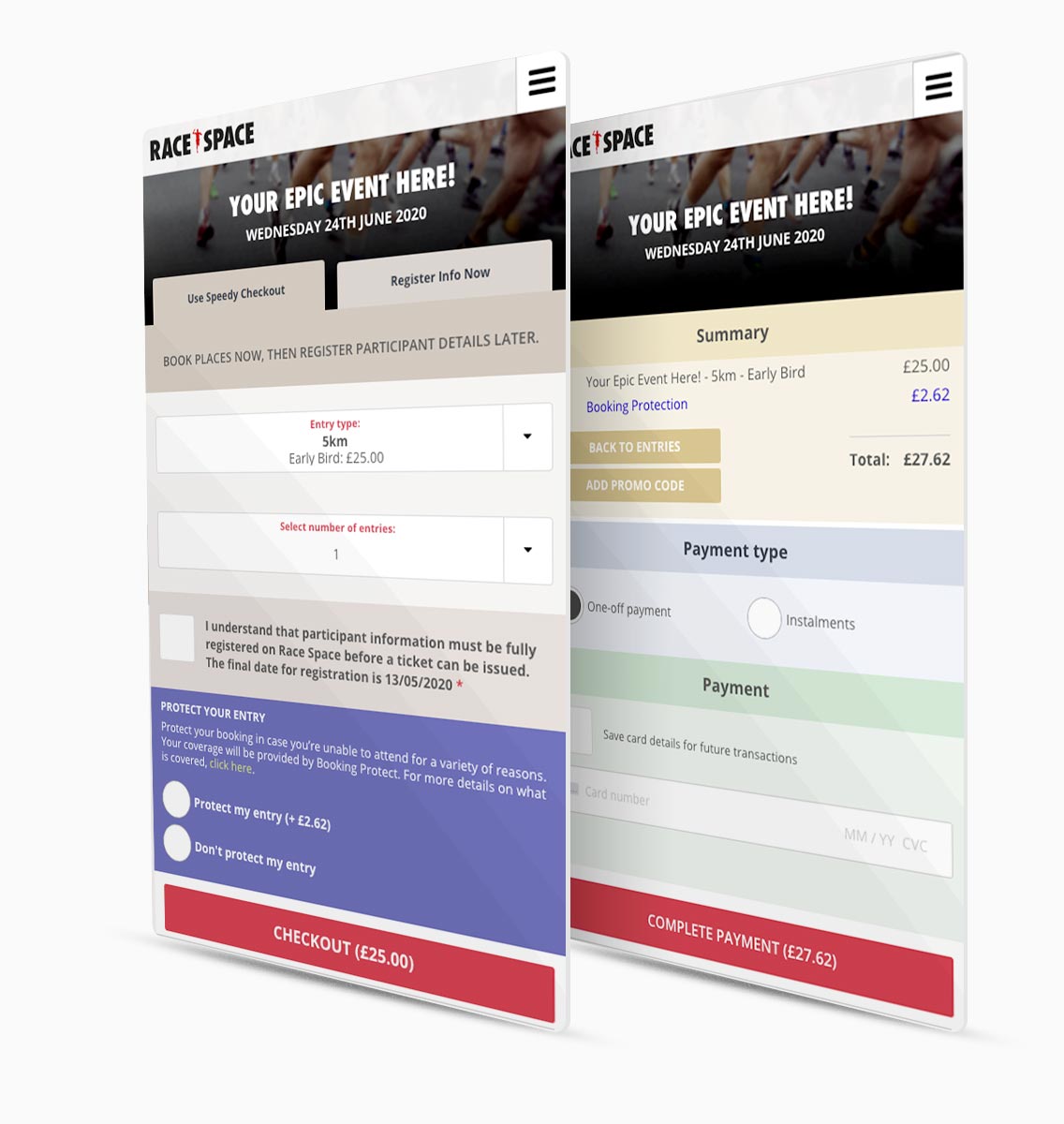 Key benefits of Speedy Checkout
SIGN UP IN SECONDS
Quite simply the quickest race signup process ever seen.
No other e-commerce industry in the world has data collection pre-purchase because of it's negative effect on sales, so why does the event industry?
Simply select how many entries you want and pay. With Apple and Google Pay, purchasing a ticket for your event can be as simple as a few clicks!
WHAT HAPPENS NEXT?
Time to register!
After purchase, participants are directed to a registration form if they want to register immediately. Alternatively, their unregistered ticket is available in their Race Space account and they get sent a link to register at a more convenient time if they choose.
Registering later is simple and participants can even make additional merchandise purchases for additional revenue.
Let OTHERS MANAGE their REGISTRATIONS
Purchaser managed registration distribution.
Buying one ticket where pre-purchase registration is required is a barrier enough to purchase, but what about when 2, 10 or even 100 tickets are purchased? Having the participant data on hand and all the forms to fill out can be a nightmare for anyone!
Purchasers can distribute unregistered tickets between participants, so that registration can be completed by the participants themselves, at a convenient time, without sharing personal information.
A completely hands off approach for you to sell more tickets to your event, quicker and easier for both you and bulk purchasers for your event.
Frequently Asked Questions
01
Do some people show up unregistered?
This is very rare. Weekly reminders are sent and daily reminders for the week before cut-off so people get plenty of notice.

The process is also clearly sign-posted every step of the way.
02
How many tickets can you buy at once?
Up to 100!
03
Can 'Speedy' tickets be purchased with instalments?
If you've enabled both instalments and Speedy Checkout, then yes! And that can help those thinking about buying a lot of tickets in one go to do it.
04
What if someone wants to register fully?
Full registration pre-purchase is always available.

When Speedy Checkout is enabled, it is the default form on mobile and full registration is default on desktop.

Switching between them on mobile and desktop is really easy.
05
Do I have to use Speedy Checkout?
If you're more of a traditionalist, don't worry, you can switch Speedy Checkout off.
06
Can other participants register the tickets?
Yes, the purchaser of Speedy tickets doesn't have to be the one registering them all.

So if a local charity buys 100 tickets, they don't have to register each one themselves, they can send them to the participant to fill out.
Features that work well with Speedy Checkout
{"modalTheme":"cara","mailCustomCSS":""}