Your sales are dependant on the whole transaction process
Does your entry platform help or hinder sales?
Without an effortless flow, an engaging experience and easy access to information needed to push participants to the finish line, potential participants can easily lose momentum.
Where losing momentum has a direct impact on your bottom line, choosing the right registration partner means choosing the right conversion flow.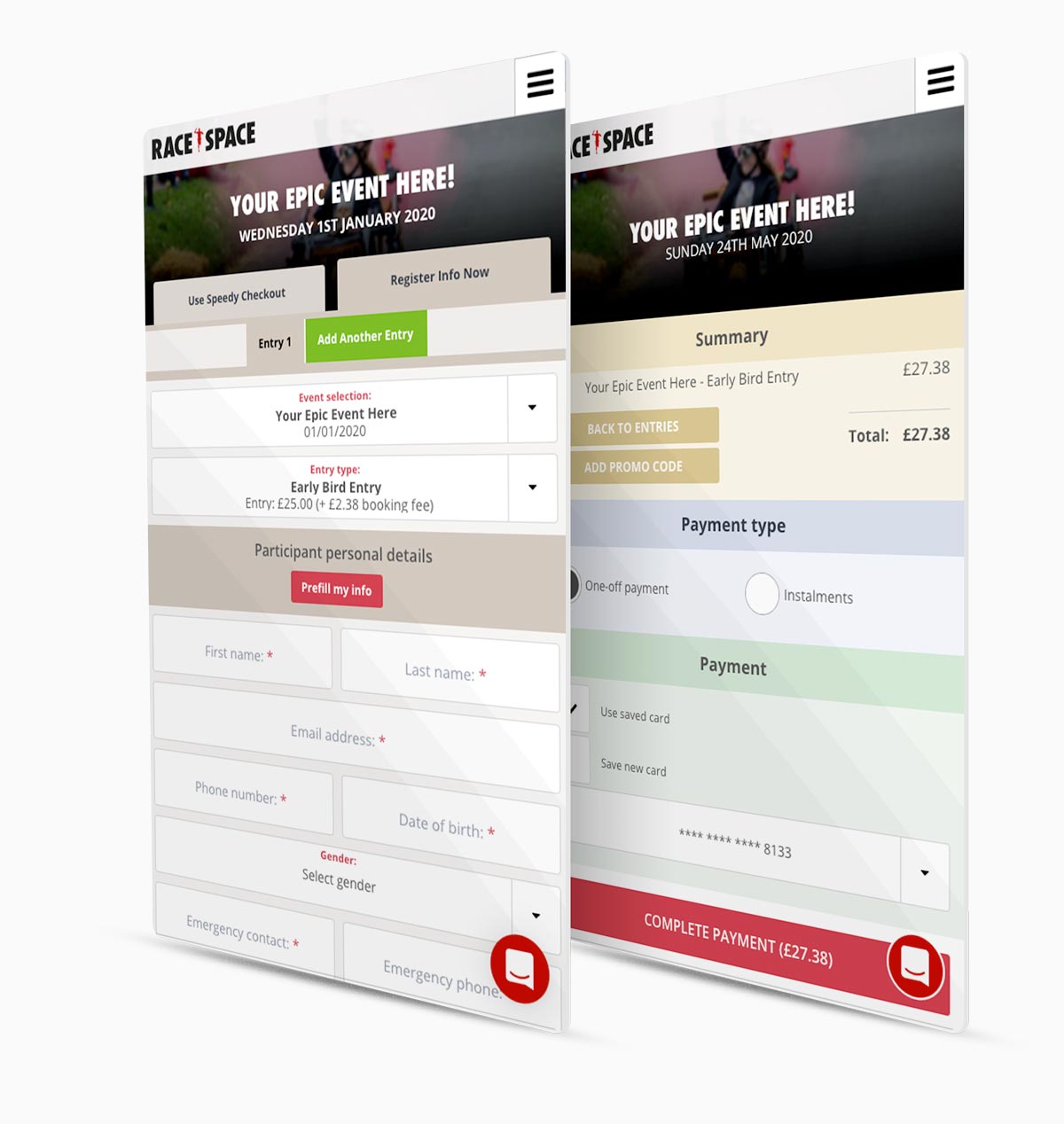 Designed to positively contribute to sales at all steps
Event pages that help sell.
A key element in managing effective conversion flows is the event landing page when potential participants have expressed interest.
We've designed our pages to be flexible, highly engaging and give potential participants the information they need in an easy to digest manner that helps nurture interest and turn it into a sale.
97% of Race Directors increase potential participants purchase motivation by driving traffic to our event pages rather than directly to registration forms.
Key benefits of Race Space event pages
Great on mobile
Nurture event interest & create sales, no matter what the device.
With over 65% of transactions taking place on mobile devices, ensure you have the right experience to nurture interest & secure entries.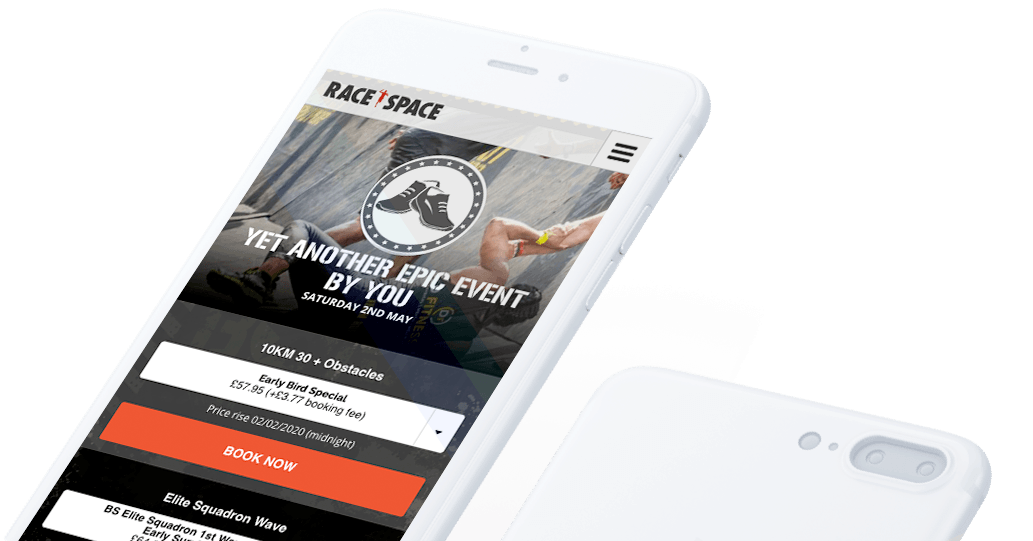 Easy to setup & edit
Setting up your event page on Race Space is easy.
Both powerful and flexible, Race Space's event pages come with an intuitive & easy to use event builder.
Simply follow the step-by-step, guided setup process. The flexibility and usability mean you'll have no trouble creating an event page that helps nurture participants from interest to sale.
Create Added Value
Create more value for sponsors.
Sponsor logos and links featured on every event page means more screen time and engagement for your partners. Generate more value for your sponsors, which you can use as an added value in partnership discussions.
Sponsor logos are not just on event pages, they're everywhere related to your event - on all tickets and email communications.
Full of features to help you sell
Built in mapping tools.
Packed with features like our mapping tool that helps give participants the information they need to validate and/or increase interest in your event.
Frequently Asked Questions
01
Can I use my Race Space event page as my event website?
Absolutely!

You can setup a redirect for your own URL or drive traffic directly to your Race Space event URL.
02
Can someone help me get setup?
Of course! Don't hesitate to reach out using our Race Space Chat, or email
[email protected]
and one of the team would be delighted to help create the best event page possible for your event.
03
Will Race Space promote my event page?
Unless you select the option that your event is private, your event will appear in Race Space listings and may be directly marketed to all our users.
04
Do I need to direct traffic to the event page, or can I link directly to the entry form?
The choice is yours, you can direct traffic to either the event page or directly to the entry form.
05
How quickly can I get my event live?
Setting up is easy and intuitive. If you have the key event information to hand, you can get setup in no time!

If you don't have all the information handy, you can always save as a draft and complete later. Or give access to another user for them to complete any finishing touches before publishing.

*When creating your first event, you can create an event without completing your 'Organiser Profile', however you will need to complete your 'Organiser Profile' before publishing. This includes a few basic questions like where we'll send the ticket money etc.
06
Can I come back and edit my page later?
Yes. As the race organiser, you have complete control over every aspect of your event pages and if you want to change something later, you can.
Features that work well with Race Space Event Pages
{"modalTheme":"cara","mailCustomCSS":""}